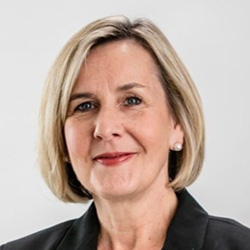 Susan Benoit
CEO + President
CenterWell Home Health
Susan Benoit, CEO and President of CenterWell Home Health, joined the company in 2008. She started her career at CenterWell as the Regional Vice President of Sales leading the company in highest sales growth and employee retention. In 2012, she was responsible for the corporate sales strategy before moving into a Regional President role in 2013. She has a proven track record in successful start-up operations as well as financial turnarounds.
During her tenure with the company, she received numerous awards including Top Performing Region in 2008 & 2010, Pinnacle Gold in 2008, and the 2016 Outstanding Healthcare Achievement Award.
Susan brings to CenterWell a range of leadership experience in sales, recruitment, operations, and financial management for public and private organizations across many industries including healthcare, staffing, financial services, transportation, and education.
Prior to joining CenterWell Home Health, Susan was Region Vice President of the Adecco Group, one of the world's largest Human Resource and Staffing firms that assists companies with hiring the best talent. At Adecco, she staffed and managed production, operations and distribution for numerous companies who outsourced their operations. She has proven success in hiring, training, and managing large operations efficiently.
Susan is an Executive Board Member of the Association for Home and Hospice Care of North Carolina, a Board Member of the Partnership for Quality Home Healthcare and a member of the Hendersonville Chamber of Commerce. In 2022, she was ranked as one of the top 25 CEOs for women by Comparably.
Susan resides in the mountains of North Carolina with her husband, Jeff, and two sons.