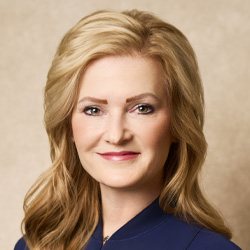 Shelly Sun
Founder & CEO
BrightStar Care
Shelly Sun is the CEO and Founder of BrightStar Group Holdings, Inc., the parent company of BrightStar Franchising, LLC and BrightStar Senior Living Franchising, LLC which offers BrightStar Care®, BrightStar Senior Living® & Memory Care, and BrightStar® Care Homes™ franchises. BrightStar Care is a premium healthcare staffing company providing the full continuum of care, from homecare to supplemental staffing for corporate clients such as nursing homes and physicians. In 2005, BrightStar launched its franchising efforts, becoming the first and only franchising company in the country to specialize in both medical and non-medical care and healthcare staffing. BrightStar Care has grown to over 360 locations nationwide serving over 20,000 families.
Shelly served as the International Franchise Association (IFA) Chairwoman 2017-2018, was named IFA 2009 Entrepreneur of the Year, and is a Certified Franchise Executive. Shelly Sun and BrightStar were featured on CBS' Undercover Boss. Shelly also published her first book, Grow Smart, Risk Less, where she discusses her journey as an emerging franchisor through growth, lessons learned, and game-changing ideas.
BrightStar Care is consistently named in Forbes' Top Ten Franchises under $150,000 initial investment. BrightStar® is also the only franchise home care brand to receive the Joint Commission's Enterprise Champion for Quality Award – every year since its inception (2013 through 2021).