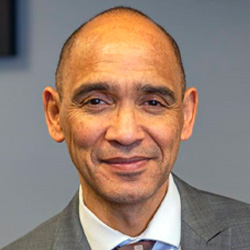 Andrew Agwunobi
President of Home Solutions
Humana
Dr. Andrew (Andy) Agwunobi joined Humana in February 2022 as President, Home Solutions. In this role, he is responsible for leading Humana's home care capabilities, including CenterWell Home Health, onehome, mergers and acquisitions and the company's outcomes-focused, value-based care model.
Prior to Humana, Dr. Agwunobi served as Interim President of the University of Connecticut (UConn) and as Chief Executive Officer and Executive Vice President of Health Affairs for UConn Health. Prior to his time at UConn Health and UConn, Dr. Agwunobi served in several healthcare leadership roles, including as President and CEO of Grady Health System in Atlanta; CEO of Providence Healthcare in Spokane, Washington; and Secretary of the Florida Agency for Health Care Administration, where he was responsible for the State of Florida's healthcare administration budget, as well as regulatory oversight of managed care programs, home health care and hospitals. Dr. Agwunobi also served as a managing director and co-leader of the healthcare financial and operational performance improvement practice of Berkeley Research Group (BRG). He also served as Chief Operating Officer at St. Joseph Health System in California, and President and CEO of Tenet South Fulton Hospital in East Point, Georgia. Additionally, Dr. Agwunobi is a pediatrician having practiced on both coasts, including at Harvard Vanguard Medical Associates in Boston and Palo Alto Medical Foundation in California.
Dr. Agwunobi earned his M.D. from the University of Jos in Nigeria and his MBA from Stanford University. He completed his residency in pediatrics at Howard University Hospital. He currently serves on the boards of CareQuest and Gentiva.